Updated again - 9/2/2020
Don't Panic
Really, don't panic. COVID can be a serious disease, but it presents a low risk to most people. More than 85% of people with COVID only have a runny nose, or no symptoms at all. Yes, it is not the flu, but it has very low measurable risk for each of our individual patients. COVID is very unlikely to put you or your loved ones in the hospital and even less likely yet to kill you. If you get COVID most likely you will have a runny nose and not feel great for a few days. If you do get sick, have a hard time breathing, or start getting short of breath you should be seen by a doctor, but that advice applies every year and all the time.
Should you follow the national guidelines and social distancing, yes.
Should you Get tested?
You can always ask us or you can see the questionnaire that the CDC put together.
What Else are we doing to help?
We have set up virtual visits, so you can still get your care, even if you cannot come in to be seen.

Want a virtual visit? Call us at 414-326-4800. Need more help with installing Signal? Click here for Android or here for Apple/iOs
What If I have to Come in?
In order to protect our patients we have set up a second (sick) entrance, a dedicated respiratory illness waiting area, and a dedicated respiratory illness exam room. This way we can see those who might have COVID and do the best not to give it to those who don't.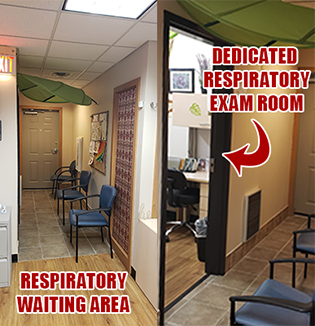 Those with respiratory illness can park on the old drive through lane and be right next to the door.
We try very hard to give evidence based advice on COVID. Click here to see a list of the studies we have used for this advice,